I received this book for free from Macmillan Children's Publishing Group in exchange for an honest review. This does not affect my opinion of the book or the content of my review.
Shutter by Courtney Alameda
Published by Feiwel & Friends on February 5, 2015
Genres: Horror, Paranormal, YA
Source: Macmillan Children's Publishing Group
Buy on Amazon
Goodreads


Micheline Helsing is a tetrachromat—a girl who sees the auras of the undead in a prismatic spectrum. As one of the last descendants of the Van Helsing lineage, she has trained since childhood to destroy monsters both corporeal and spiritual: the corporeal undead go down by the bullet, the spiritual undead by the lens. With an analog SLR camera as her best weapon, Micheline exorcises ghosts by capturing their spiritual energy on film. She's aided by her crew: Oliver, a techno-whiz and the boy who developed her camera's technology; Jude, who can predict death; and Ryder, the boy Micheline has known and loved forever.

When a routine ghost hunt goes awry, Micheline and the boys are infected with a curse known as a soulchain. As the ghostly chains spread through their bodies, Micheline learns that if she doesn't exorcise her entity in seven days or less, she and her friends will die. Now pursued as a renegade agent by her monster-hunting father, Leonard Helsing, she must track and destroy an entity more powerful than anything she's faced before . . . or die trying.
The Helsing Corps only showed up when someone didn't stay dead.
Do you hear that? Those are the sounds of my tears dropping, because shit just got serious, and I am overwhelmed with emotions over the fact that YA does know how to write a horror-filled, action-packed book. I nearly gave up! Hallelujah! Huzzah! Huzzah!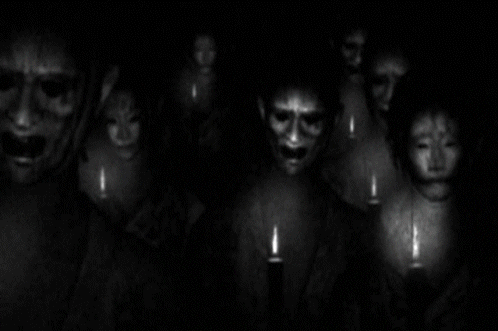 If you liked Fatal Frame, you would like this. Even though I only played 15 minutes of that game, it was enough to permanently scar my brain for the rest of my life. Everything was going so well with the slow prologue, and then a ghost appeared from out of nowhere and I threw my Playstation controller at the TV and ran out of the room like shrieking like a baby (I am not kidding. My little brother can attest to this…). While this book may not have been as scary as that (intense, more like) it has ghosts and scenes that would likely give you goosebumps all the same. Ghosts here mean business. And by business, I mean gouged eyes… dismembered hands… torn and scattered teeth… y'know, the usual shady stuff.
Don't you just wish we can go back to that time when ghosts were only good for peek-a-boos? Childhood, where hath thou gone?
The best part of this book is that everything makes sense. It is grounded in logic and science – how ghosts appear, what they are made of, the process of defeating them, how necros (or zombie-ish thingies?) are made, what the virus is capable of – and everything is just so interesting. I appreciated even more the fact that it isn't dependent on science – even faith is capable of exorcising them, which is such a breath of fresh air because for me, sometimes a collective belief in something can work wonders. If enough people can deem something as "holy", maybe that gives it some sort of power, too, simply just from the hearts of the masses? It makes the world-building so much more complex and gives it a lot of depth, because the possibilities are just endless. 
One thing that makes it a lot similar to Fatal Frame is the MC's way of defeating ghosts, which is trapping its ghostlight in a physical container, in this case, a roll film in a camera. The game series, Fatal Frame, uses the same method with its Camera Obscura – a couple of shots, the clearer the better, and the ghost is defeated (which means you don't only not evade them, you have to face them head-on, too… now you know why I couldn't play the game). At first, I was a bit conflicted because the method was basically the same, but the experience is way different when you read about it in books, so it didn't bug me as much I thought it would.
If you liked Parasite Eve, you would like this. If you are familiar with this game, then you should be able to recognise Aya from below. She's a calculating, strong-willed heroine from the police force who finds herself dealing and killing mutated humans and creatures. She stops at nothing and is afraid of nothing.
Now let's go back to Shutter. Meet Micheline, our bad-ass, no-nonsense, calculating heroine. Be it ghosts or necros or human scorpions, she'll be facing them head-on because she knows what is at stake and there is no other way to go about it. She puts her life in her own hands and refuses to let others shape it for her – that is how determined, stubborn, and strong-willed she is. She protects her friends and family, and even fights them in order to save them. And she is as human as you and me, because she makes mistakes, she can be vulnerable, and she loses, too. And that makes her such an endearing character. Meeting and reading about her made me remember Aya from Parasite Eve.
I absolutely loved this girl. She is as real as real can get. It's like I see her as the best version of anyone – still full of flaws, but can gather bouts of courage when the situation calls for it. I loved how during her times of weaknesses, she doesn't go too angsty. Yes, she mourns and grieves, but she tries so hard despite everything, and that's something I'd like to emulate. And besides, how often do we see kick-ass heroines who stay kick-ass?
If you liked Left 4 Dead, you would like this, too. One of the best thing about that game is its intensity. There's nothing else that can get your heart pumping than walking silently down a road, only to trigger a car alarm, and have a HORDE of flesh-eating zombies running to get a bite of your blood-filled throat. Me and my mates would be scared out of our wits and would go shouting over our mics, "Do you hear that?! Those are the groans of death! HURRY UP AND RUN, IDIOT!"
If it's action you are looking for, you need not look far, because Shutter is absolutely full of it – lots of fight scenes that are easy to visualize and are not repetitive, and a lot of non-fight scenes that are equally intense. Seriously, I wouldn't be surprised if this becomes a movie because it kinda has the formula down pat. There was this scene that was already said in the blurb, so I knew it was coming, but when I read it in the book, it still felt like I read it blind because good lord, my heart was seriously beating so fast. Not only is the author capable of evoking strong emotional feelings from the reader, she also knows how to make them excited, too.
And come on, our mates here got chased by necros, and they had to fight their way to the top floor of a building from the basement while still kicking necro ass along the way. EPIC BOOK IS EPIC.
As for the romance…
See, we have ONE heroine who is surrounded by three guys. Usually, you see this premise and slowly turn your head away in second-hand embarrassment because you instantly expect it would be filled with cheesy drama and flirting and fighting for the girl. I mean, come on! ONE GIRL. THREE GUYS. What else could it mean?
But this book managed to surprise me. Thirty pages in, and no cheesy flirting, eyebrow wiggling, or any "How are ye, snoogum woogums?" that happened. Sixty pages in, we get hints from the heroine and one of the guys. A forbidden romance that is showcased in a very meaningful and subtle way. They have a lot of scenes together, but most of it are related to the plot, and when they let a bit of their guard down, we get teased a lot and you end up yearning for more. It's not overwhelming at all, and not underwhelming, either, because every gesture they do has meaning and thought behind them which makes everything just so bloody worth it.
Even better? The camaraderie they have with each other. They share a connection so strong that it just shows within the pages. I loved how they can communicate with a few words or with a few gestures and get things done. I loved the lengths they would go for each other if one's life is in danger. I loved how they can talk and joke with each other with no malice (no "What did he mean by that? Did he like me? Do I like him? But what about this guy?" ISN'T THAT AWESOME?!)… just casual, innocent banter among friends who will support each other come low or high water.
All in all? This is one book that is not to be missed. It's scary, it's intense, and it's endearing all at the same time, a combination of awesome factors you don't really see much nowadays especially in this genre. This definitely sets the bar high.
4 Hot Espressos
The following two tabs change content below.
Canadian blogger, wife, mother, coffee lover, and sarcastic at heart! She has had a love for all things bookish since before Amazon and eReaders existed *le gasp*. You can also find her organizing tours and other fun things at
Xpresso Book Tours
.