I received this book for free from Random House Children's Books in exchange for an honest review. This does not affect my opinion of the book or the content of my review.
Illuminae by Amie Kaufman, Jay Kristoff
Series: The Illuminae Files
Published by Random House BFYR on October 20, 2015
Genres: Sci-Fi, Suspense, Thriller, YA
Source: Random House Children's Books
Goodreads


This morning, Kady thought breaking up with Ezra was the hardest thing she'd have to do.

This afternoon, her planet was invaded.

The year is 2575, and two rival megacorporations are at war over a planet that's little more than an ice-covered speck at the edge of the universe. Too bad nobody thought to warn the people living on it. With enemy fire raining down on them, Kady and Ezra—who are barely even talking to each other—are forced to fight their way onto an evacuating fleet, with an enemy warship in hot pursuit.

But their problems are just getting started. A deadly plague has broken out and is mutating, with terrifying results; the fleet's AI, which should be protecting them, may actually be their enemy; and nobody in charge will say what's really going on. As Kady hacks into a tangled web of data to find the truth, it's clear only one person can help her bring it all to light: the ex-boyfriend she swore she'd never speak to again.

Told through a fascinating dossier of hacked documents—including emails, schematics, military files, IMs, medical reports, interviews, and more—Illuminae is the first book in a heart-stopping, high-octane trilogy about lives interrupted, the price of truth, and the courage of everyday heroes.
If ever the times comes I'd need to pick the ultimate young adult sci-fi novel, I would choose Illuminae without any second thoughts.
You guys may be well-aware of my huge love for space opera. There's really nothing more mesmerizing than a tragic and action-packed story set in the vastness of empty space, where you are in the middle of absolute nothingness, where stars, rocks, and planets are seperated by unimaginable distances. I don't know, it's just such a beautiful setting for me. Maybe it's because I find the universe to be the starting ground of life itself, or maybe it's because I find the cosmos so romantic, or maybe it's because I see poetry in the stars. Whatever the case, I felt all three of these in Illuminae.
And then some.
Here's the thing: this book is not told in the usual, traditional way – linear storyline featuring only one POV, tralalala. What you'll find here is a story told from many points of views in a variety of manners – there are diary snippets, emails, chat logs, interviews, and reports. There are even smileys and word shortcuts in the transcripts and GASP! even dick and titty jokes (which made me laugh, seriously). Thinking about it, you'll be like, "Is it even possible to create an epic story from that?" to which I say yes, it is.
Because despite the fact it follows an unconventional method, the emotions, the internal conflict, the tension and action and urgency are all still there. You feel the sadness and tragedy when you read the allegedly last email from one person to their loved one. You'll feel the anxiety rising when leaders from the space vehicles question each other and the actions they've taken. You'll feel the excitement when smaller ships go out in battle, and then dread when you read the report of what happened. It's amazingly done and it shows the human condition pretty well because what we are seeing is pure interaction among different people who have different motives, agendas, and backgrounds; what we see are the different perspectives clashing together etched in hacked, digital data.
And it's glorious, guys. Epically glorious. Is that a tear in my eye? Why, yes, it is.
What makes this story even more emotional and relatable is the fact that the driving force of the plot is the romance between Kady and Ezra who find themselves separated in two completely different spaceships. Their personalities shine so much through their emails and chat logs, and you feel the longing and yearning and their protectiveness in them, too. You will see how confused they are of the situation and how desperate they are to find out what's happening that is fucking their envoy up.
And yup, you will also feel the following:
That sounds about right.
PLUS, THE AWESOMENESS THAT IS AIDAN. He's the artificial intelligence who becomes one of the most complex characters I have ever met in a YA Sci-Fi novel. He's the one who makes you think about your life and your perspective about life in general. He is so philosophical as hell that he made me close the book, open the windows, and look at the stars searching for the answers of my existential crisis that promptly appeared at that moment. The stuff he says, especially at the end of the novel, makes you really feel how insignificant we are in the grander scheme of things.
Ah, universe. You and your secrets and mysteries. I love 'em.
All in all, this is a check-list:
– You want ninety billion light years of empty space? Check.
– You want an artificial intelligence gone FUBAR? Check.
– You want a mutating virus in an enclosed space ship? Check.
– You want to see a conspiracy unfold? Check.
– You want to see a heartfelt, emotional, and intense romance? Check.
– You want to see pew pews?!?!?!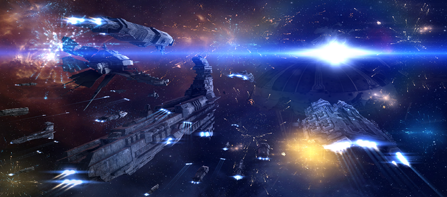 Fuck. Yeah.
5 Hot Espressos
The following two tabs change content below.
Canadian blogger, wife, mother, coffee lover, and sarcastic at heart! She has had a love for all things bookish since before Amazon and eReaders existed *le gasp*. You can also find her organizing tours and other fun things at
Xpresso Book Tours
.