I received this book for free from Amulet Books in exchange for an honest review. This does not affect my opinion of the book or the content of my review.
Maresi by Maria Turtschanioff
Series: The Red Abbey Chronicles #1
Published by Amulet Books on Jan 3rd, 2017
Genres: Fantasy, Middle-Grade
Source: Amulet Books
Goodreads


Only women and girls are allowed in the Red Abbey, a haven from abuse and oppression. Maresi, a thirteen-year-old novice there, arrived in the hunger winter and now lives a happy life in the Abbey, protected by the Mother and reveling in the vast library in the House of Knowledge, her favorite place. Into this idyllic existence comes Jai, a girl with a dark past. She has escaped her home after witnessing the killing of her beloved sister. Soon the dangers of the outside world follow Jai into the sacred space of the Abbey, and Maresi can no longer hide in books and words but must become one who acts.
Maresi is being marketed as YA but is very much a middle grade novel. I mention this because I know a lot of people don't enjoy MG the same way they do YA but don't write off Maresi right away. This well-formulated MG novel is clearly a set up for even more energetic, high-stake sequels that are more YA than MG.
I think the biggest draw-back of this novel was the writing. I assume part of it is that translating from one language to another is no easy feat and I don't want to dismiss the hard work that goes into translating. The writing did however feel a little clunky and like it needed a whole lot more polishing. I was able to move past that and ultimately really enjoy the book.
The world-building in this book is truly wonderful. I love that the abbey is not secretly a toxic place to be. I love the relationships b/w the women at the abbey, I love the food descriptions, I love how the abbey functions as a safe haven for women while also allowing them freedoms that might not be allowed to them by their societies. Not all cultures within this world even actively oppress their women (and those that do aren't from just one part of the world). Some women are just oppressed by awful governments. The point of the abbey is to give tools to the women so that they may one day make changes in the world.
The homosocial relationships in this book are to DIE for. OHMYGOD I LOVE THE FRIENDSHIPS (and my head??cannon OTPS). They are so well built and I love how supportive everyone is of each other. I love the handholding and I love how much mother, sisters, novices and the little ones push each other to do better and be better.
Maresi herself is a phenomenal character who redefines the chosen one trope. She isn't the chosen one because destiny, she is the chosen one because she chooses to do something and is ACTIVE in defining the direction in which her life will take her. She is brave, curious and kind. A person who will always have your back.
There isn't as much happening in terms of the plot until the very end but I was so happy with the character development and the world building that it didn't really bother me. I say this as someone who is more plot-oriented as a reader so I really do mean it.
Overall, while this book could definitely use a little more polishing, the world building and character development are so strong that they more than make up for weaknesses in writing. The book also ends on a high note and I NEED THE NEXT BOOK NOW. Please and thank you.
If you Like:                                            Read: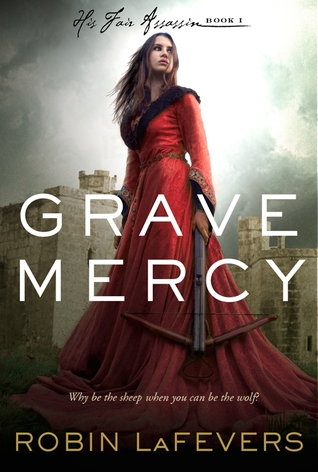 3.5 Hot Espressos
The following two tabs change content below.
Rashika has been tired since 2013. There are very few things that spark joy for her besides a nice cup of tea, warm, baked goods, good books and good TV shows. She is here to pile onto your giant TBRs and to-watch lists. Offer her a cookie and she might be nice to you.