I am of the opinion that books are amazing (DUH.) Over the years, I have gained so much knowledge from books and learned so much about the world. Reading hasn't just been a form of escapism but a way of filling all the gaps in my knowledge. Today, I wanted to dedicate a post to all the amazing female leads who inspired me growing up and who have helped define the person I want to be.
You might know Madeleine L'Engle as my no.1 hero because her books changed my life but it was Vicky in specific from the Austin Family series that really helped me out during my awkward pre-teen phase. In A Ring of Endless Lights (one of the best books I've ever read, FYI) Vicky is surrounded by death and doesn't know if she will ever find the light and the struggle is infinitely real. Vicky isn't a perfect female lead but the reason she is so relatable is because she isn't perfect. The way she grows over the course of the series and learns to appreciate herself and those around her is amazing (and her relationship with her siblings is AWESOME-SAUCE.) As a pre-teen, I wanted to be like Vicky. I found strength in her strength and you know, even when it's just angst you're dealing with, angst can be a bitch especially when you are a pre-teen.
Stargirl from Stargirl by Jerry Spinelli was another amazing female lead I recall with much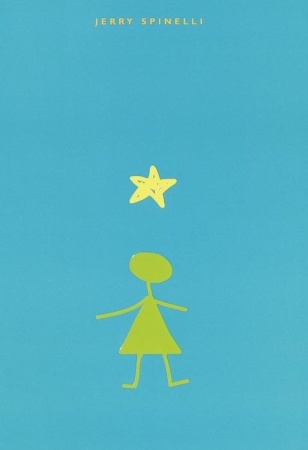 fondness. Surrounded by awful middle schoolers, Stargirl didn't let their awful words get to them. She was just Stargirl, all around awesome and someone who held her head high. I was so inspired by her experience, especially since it can be so hard to not be affected by all the mean things middle-schoolers have to say.
There was also Jenna Fox from The Adoration of Jenna Fox by Mary E. Pearson. You might know Mary E. Pearson for her Remnant Chronicles series but all I remember is the way Jenna Fox changed my life in eighth grade. This book asked all the complex questions about what it means to be human and how far parents are willing to go for their children. Jenna Fox has lost all her memories and yet even though she is angsty as she pieces together her past, her relationship with her parents remains as she tries to find her way in a world she doesn't quite remember.
The last book I wanted to mention was Goose Girl, the book I forced so many people to pick up because of my infinite love for it. Why does one do when they are an unloved princess sent off to an unknown land to marry a prince they have never even met? What do you do when half your party conspires against you and leaves you to die? Well, you put on your big girl pants and become like Ani. Ani makes my heart hurt even now with all of her infinite strength. I am honestly so grateful that I got to meet a female lead like her so early on. One who wasn't thrown off by challenges and worked hard to figure her way out to the top. Who was what every princess should aspire to be and one, who even when rejected by her 'true love' didn't fall into pieces but rather continued to march on. ANI, I LOVE YOU.

So what is the point of this entire post, you ask? To make you add more books to your TBR? Potentially. Mostly, this is just a way for me to commemorate all these amazing female leads I met in a part of my life where I needed awesome female leads to look up to.
What are some female leads that have inspired you over the years? Why? Tell me all the things please.
The following two tabs change content below.
Rashika has been tired since 2013. There are very few things that spark joy for her besides a nice cup of tea, warm, baked goods, good books and good TV shows. She is here to pile onto your giant TBRs and to-watch lists. Offer her a cookie and she might be nice to you.