New Year, New Me, right? 2017 was a rough year for me, personally and just on a larger political scale. I am really hoping 2017 will at least bring good things on a personal scale or at least won't try to take me on an intense emotional coaster; however, I am not holding any high hopes for not experiencing high amounts of stress because the world is falling the fuck apart. I am not trying to be pessimistic though, I just know that even if good things happen, I ~will~ be stressed out and so since the year has only barely begun and I haven't experienced any high amounts of stress yet, I thought I'd do a post centering around what ~I~ plan to do for self-care this year. Having a plan for self-care is important, in my opinion, because it offers at least some measure of control when things get rough? THAT'S JUST ME THOUGH. You do you if you handle stress and anxiety in different ways!

1. De-stress by taking care of my skin
I did this a lot last year. I loved putting a face mask, doing some pore-cleansing strips and just washing my face after all of that. A clean face always makes me feel better and I know I am going to do that a lot more this year. Also 2018 is the year I want to focus more on my skin! HAPPY SKIN = HAPPY ME
2. Get Fresh Air
This is something I am really bad at doing. Like really really bad and I need to work on it. Walking outside has always helped me re-evaluate and calm down a little but because I am such a home-body sometimes, it's hard for me to actually get the courage to leave
3. Adult Coloring Books
I've never really spend a lot of time with them but I own one and I think I should at least try it as a self-care technique. Like put on a tv show and unwind. Using pens stresses me out though so I'll stick to color pencils and crayons like back in elementary school. Going back to the roots, amirite?
4. Journaling a little bit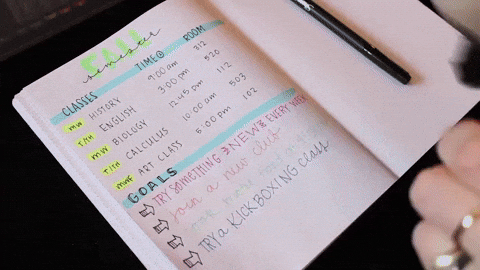 Not like a bullet journal but like a diary/planner, maybe? I've also just need to be consistent with my planner usage because planning makes me happy. I like having everything written down and planned out and I need to be better about actually doing that because it makes me feel better. There have been a # of times when I am feeling overwhelmed by things and just writing stuff out and claiming some sort of control over my environment has always been helpful.
5. Choosing not to read sometimes
This may be the most surprising thing on here but I tend to stress myself out by forcing books on myself when I don't want to read? There are definitely moments when reading is the answer and reading helps me unwind but I have to be in a reading mood and I need to stop forcing books on myself when I cannot handle it.
What are some of your self-care techniques? Do you have any plans in place for 2018? Let me know!
The following two tabs change content below.
Rashika has been tired since 2013. There are very few things that spark joy for her besides a nice cup of tea, warm, baked goods, good books and good TV shows. She is here to pile onto your giant TBRs and to-watch lists. Offer her a cookie and she might be nice to you.