I received this book for free from Delacorte Press in exchange for an honest review. This does not affect my opinion of the book or the content of my review.
Reawakened by Colleen Houck
Series: The Reawakened #1
Published by Delacorte Press on August 11, 2015
Genres: Fantasy, Mythology, YA
Source: Delacorte Press
Goodreads


When seventeen-year-old Lilliana Young enters the Metropolitan Museum of Art one morning during spring break, the last thing she expects to find is a live Egyptian prince with godlike powers, who has been reawakened after a thousand years of mummification.

And she really can't imagine being chosen to aid him in an epic quest that will lead them across the globe to find his brothers and complete a grand ceremony that will save mankind.

But fate has taken hold of Lily, and she, along with her sun prince, Amon, must travel to the Valley of the Kings, raise his brothers, and stop an evil, shape-shifting god named Seth from taking over the world.

From New York Times bestselling author Colleen Houck comes an epic adventure about two star-crossed teens who must battle mythical forces and ancient curses on a journey with more twists and turns than the Nile itself.
One word: WOW.
I seriously didn't expect this to be so good. I thought I'd get an everyday run-of-the-mill mythology story featuring some unlucky ancient Egyptian schmuck, but what I got instead was an entertaining, refreshing, action-packed adventure that left me not only at the edge of my seat but also in tears and in stitches.
By the end of the book, I thought of one thing and one thing only: where's the next book, I need an ancient Egyptian prince for a boyfriend, maybe if I get lucky I can enter some tomb and magically find a handsome mummy, this is what the mummy movies should have been (oops, I'm not committing some sort of heresy with that statement, am I?)
I've always been interested in Ancient Egypt – their culture, their values, their architecture, their society – everything. They're intriguing and there is this sense of mystery and mysticism from them that I find absolutely romantic and poetic. I've always waited for that one YA book that would feature Egyptian mythology and a reawakened Egyptian mummy (because come on, doesn't that just seem fun?), so imagine my surprise when that day came as soon as I got my hands on this book. It delivered, guys. It fricking delivered.
I love how mythology was used here. It wasn't just a background for the characters but it was also something that directly affected the plot and kept it moving. It reminded me somehow of Richelle Mead's Age of X series, where the world is full of humans who have stopped believing in millenium-old mythologies and their gods, not knowing that these said gods were actually real and that they all lived in a distant time and plane separated from them. The same is pretty much used here, especially when Amon (no, not Amun), has been resurrected once again, as he has been every 1000 years since he was made a servant of the gods, in order to do a ritual to ensure the dark god Seth doesn't come to the mortal world once again and wreck it unimaginable havoc. But what's he to do when instead of waking up in his tomb in a pyramid in the middle of Egypt, he finds himself in a museum in New York without the canopic jars filled with his organs in sight?
First of all, I adoooooore Amon. I love him so fucking much. He was so stiff and so formal and so clueless and so fricking adorable all at the same time. I loved how he was portrayed here. I loved how he found the new world so intriguing and so scary and so curious, how he was so intent on fulfilling his mission, how he saw the grander scheme of things and set aside his own wants and needs because the rest of the world had to come first. 
And did I mention how he's clueless AND adorable? And how he's just so effortlessly hilarious?!?!
Oh lawd, Amon. *cackles with laughter*
WHY. ARE. YOU. SO. FRIGGING. CUTE.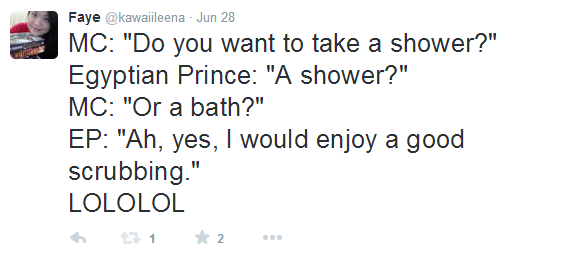 I can't.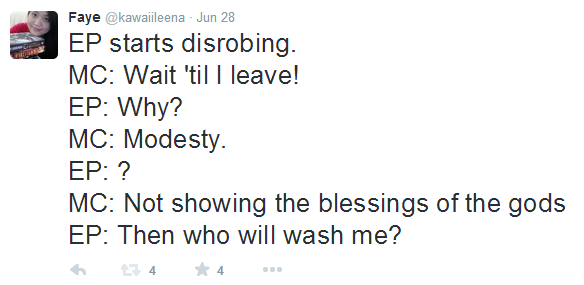 Goddamnit, Amon! You're making it hard not to love you here!
And he even has two other brothers, y'all. TWO OTHER BROTHERS WHO ARE EQUALLY CHARMING, FUNNY, AND SO, SO, SO ENDEARING. 
(PS: You can breath, guys. No love triangle over here, don't worry. Bro's code, yes? ;D)
And I have nothing but love for the heroine, american Lillian Young who accidentally stumbled upon Amon as he awakened and got herself bound to him against her will (well, when you don't see your organs and you're weak as hell and you need the strength to save the world from a crazy-ass god and you see this life form in front of you who can share her energy… weeeell…). She was such a thinking heroine who was a trooper through and through. She would pause and look at a situation calculatingly. She never, ever became stupid or reckless or hopelessly in love. She never followed the hero because he was handsome as fuck (even though he was handsome as fuck), but because she felt that she had to help him because, well, if she didn't, it would be "bye-bye world, it was nice living here while it lasted." 
And yes, she may have been bitten by demon lizards, gotten herself almost killed by a risen dead, and gotten herself almost killed by a poison that was last seen since ancient egyptian times, but it never because of her own recklessness. These were things that unfortunately happened to her and she fought through and endured them like the rockstar she was.
And that romance… that slow-and-steady romance that left me swooning and crying and laughing. It was a perfection and a tragedy at the same time. Needless to say, my heart is still recovering from the shock and awesomness and I absolutely implore Colleen Houck to write the second book soon before it dies in anticipation.
My message to this book:
My message to you, readers:
It was amazing. You must get this.
4.5 Hot Espressos