The Hating Game by Sally Thorne
Published by William Morrow Paperbacks on August 9th, 2016
Genres: Adult, Chick Lit, Contemporary
Buy on Amazon
Goodreads


Nemesis (n.) 1) An opponent or rival whom a person cannot best or overcome.
2) A person's undoing
3) Joshua Templeman

Lucy Hutton has always been certain that the nice girl can get the corner office. She's charming and accommodating and prides herself on being loved by everyone at Bexley & Gamin. Everyone except for coldly efficient, impeccably attired, physically intimidating Joshua Templeman. And the feeling is mutual.

Trapped in a shared office together 40 (OK, 50 or 60) hours a week, they've become entrenched in an addictive, ridiculous never-ending game of one-upmanship. There's the Staring Game. The Mirror Game. The HR Game. Lucy can't let Joshua beat her at anything—especially when a huge new promotion goes up for the taking.

If Lucy wins this game, she'll be Joshua's boss. If she loses, she'll resign. So why is she suddenly having steamy dreams about Joshua, and dressing for work like she's got a hot date? After a perfectly innocent elevator ride ends with an earth shattering kiss, Lucy starts to wonder whether she's got Joshua Templeman all wrong.

Maybe Lucy Hutton doesn't hate Joshua Templeman. And maybe, he doesn't hate her either. Or maybe this is just another game.
Feels in a gif: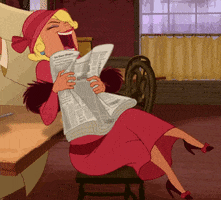 I usually find it hard to express all my feels about a book in a singular gif but with The Hating Game, it was quite easy. Actual pic of me after I finished the book.
I haven't read a rom-com I loved this much in years and I think The Hating Game encompasses everything I love about good rom-coms and a good romance. It made me feel so mushy and happy on the inside and I am glad that The Hating Game found its way into my life. This book has already received so much hype and so many people are already loving it so instead of doing a review review, I thought I'd list 5 quick reasons that might make you want to pick this book up.
1. Main characters that work in publishing *fist pumps*
2. A slow-burn hate-to-love romance. LIKE THE GOOD OLD DAYS. There is enough chemistry in this book to set your body on fire.
3. Female MC who even though tries really hard to be nice to everyone, if you say shit about someone she loves, SHE WILL destroy you with her words.
4. Battle of the wits. What other battles are you looking for?
5. Rom-com in the veins of Kristan Higgins and many more amazing authors (Kristan Higgins is one of my favs so I am really serious about that comparison).
I cannot stop thinking about The Hating Game and really feeling the book-hangover because I want to read the book for the first time over and over again. SOMEONE GRANT ME MAGICAL POWERS that allow me to read books for the first time again. Or read it for the first time and share your feels with me.
4.5 Hot Espressos
The following two tabs change content below.
Rashika has been tired since 2013. There are very few things that spark joy for her besides a nice cup of tea, warm, baked goods, good books and good TV shows. She is here to pile onto your giant TBRs and to-watch lists. Offer her a cookie and she might be nice to you.